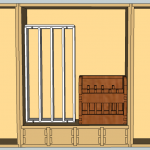 Ever since I completed the chisel rack at the beginning of 2011, I have been wanting to build a hand tool cabinet.  Over the past year or so I have off and on been working on a design for the cabinet using sketch-up.  So to take advantage of a long weekend, this past Saturday I finally started the actual build.  Right off the bat, I made a design change to the cabinet, simply because I had the wood to do with.  I had some wide boards of maple I have been holding back for this project, that were a bit wider then the 7″ depth I had planned on.  So I added on an extra inch, making it 8″ deep.  I was pretty much in the shop all day Saturday, and got most of the case work done on it.  The only items missing were the dividers for the drawers and the back.  During the process of cutting the dados, I made another design change.  I decided it may be good to have one of the drawers wider, so I took out the center divider.
Sunday, I did spend nearly as much time in the shop as the heat and humidity (it wanted to rain all day, but didn't) were horrible.  I did however clean up all the glue joints and sanded it.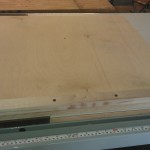 Today, Labor Day Monday, I glued in the dividers and back.  This was also the inaugural run of my new cross-cut sled I made.  I have been meaning to make one for years, even bought Incra's slider bar a couple years ago, but never got around to it.  The back on this is 27″ wide, and would be impossible to cut with the miter gauge on the table saw.  I did break it down to manageable piece with my circular saw, but that does not leave a clean cut.  In fact it tears up the veneer on the baltic birch ply horribly.  I used my roller stand to support the sled, and was able to safely cross cut the back down to the exact size I needed.  All I can say is, I wish I hadn't waited so long to make one! The rest of the time I spent in the shop today was sanding the back.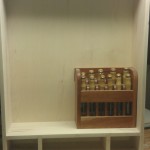 All-in-all, I am happy with the progress I made, in fact a little surprised I am already this far a long.  I was hoping for the first glue-up this weekend, but managed to get that done the first day.  Most likely I will work on the door boxes next, but I am considering work on the plane till portion next.