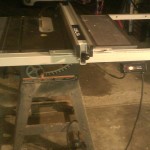 I didn't take any further pictures during the install process, except for the final product (as shown) as from this point the installation was exactly as described in the manual and it went in fairly quickly. Much of the time spent was with tuning the fence. Which I did even further the next morning as well, until I was happy with the setup.
One unexpected benefit was the power switch placement. It no longer faces down, but instead faces up. I did move it out a little bit further I was fearful I would accidentally turn the saw off mid cut by leaning into it. However the bracket mounted right onto the angle iron by using one of the bolts that hold the tube rail to the saw.
For the cost of this fence (being less than half of many of the popular high-end fences) I was really impressed with the feel of it. It glides over the rails with very little force, despite it being fairly heavy. The measurement guide is very easy to line up, and leaves very little doubt to the accuracy of the cut. Finally, since it use a similar clamping mechanism to the Biesemeyer, it ALWAYS locks down square. Even though the saw itself is 25+ years old, this upgrade has made the saw feel like it is new.