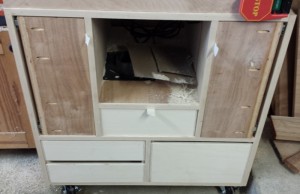 It seems like this time of year my postings tend to drop off, though it is always for a good reason.  Rather than spending time typing a post, I am out in the woodshop working!!  The last couple weekends, as I have got time, I have worked on the drawer boxes for the new router table.  While the boxes are all done and in place, I still have some work to do on them, mainly making the fronts for them.  Once those are done, I will do a follow-up post of what went into making the drawers.   The good news is the router table is useable, and it really is a joy to use.  It is hard to believe that the same router is in this one that was in the old one.  The bigger work area is definitely a bonus.  Also, because of the increased overall weight, there is virtually no vibration.  I am really looking forward to getting the drawers done so I can start to really utilize the storage features of the cabinet.

Two quick tool gloats.  Back in April, I went to the Lie-Nielsen tool event host at the Popular Woodworking Magazine headquarters near Cincinnati Ohio.  I had a great time there, but also picked up their new tapered cross-cut saw. I have used it a couple of times to help lay out some short dados, and it is a great saw.  While I was at the tool event I tried out their new tapered dovetail saw.  I did not buy it yet as I have the Veritas saw, but I can tell you , Lie-Nielsen has a winner there!  This may be a future purchase for me.  I have also been wanting to update my jack plane, as the one I have is not well made Stanley Handyman.  I tried out the #62 while I was there, and I am seriously considering that as the replacement for the jack plane.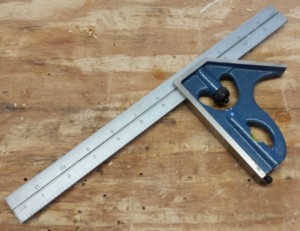 Last weekend I also swung by Gerstner's yearly warehouse sale.  While they had a real nice discount on most of the stuff there, one of their tool chests is unfortunately outside my budget.  I will say this though, they are beautifully made chests.  Maybe some day!  🙂  I didn't leave empty-handed though.  They at want time sold rebranded PEC squares and they were closing them out for a very low-cost.    So I picked up a nice, and much-needed, 12″ combination square.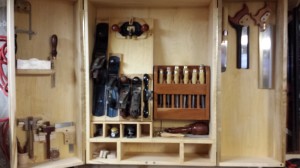 Finally, I did some shop maintenance as well.  First I rearranged a few things in the hand tool cabinet so it can better accommodate my now growing collection of hand saws.  I actually started using the second door, and moved my hand saws over to it.  I still need to make the drawers for cabinet though.  One of these days!