I know I said back when I did the video of the drawers I was going to do another follow-up video.  I will be honest, in many ways, I felt that video is a bit of a disaster, so much that video prompted me to retool my video production capabilities a bit.  However, I am ready to move on to other projects and videos, so I decided to finish up the drawers without the eye of the video camera.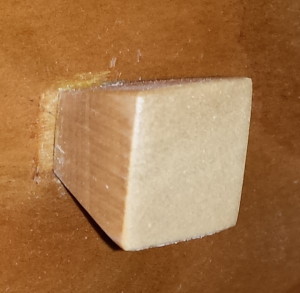 The first thing I worked on was the pulls.  I went through several design ideas, including sometime on the lathe, band saw, and shaping with hand tools.  In the end I went with simple square pulls that taper inward.  I did this by ripping a couple of strips of maple on the band saw, with the table set at 15 degrees.  Keeping the fence and table in the same position, I crosscut each strip to the square pulls.  I sanded them down thoroughly, and glued them on to the drawers.  After the glue dried, I put a good coat of boiled linseed oil on each drawer.  I let them sit and cure for a week.  I then sprayed them with several coats of shellac, and then gave them a light sanding to smooth out the finish.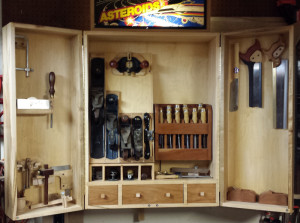 While completing the drawers for the hand tool cabinet is a significant milestone in its build, I will not call it done.   As my hand tool collection grows and evolves, new additions will be made to the cabinet.  I will of course document them here and on video as well.
When I posted the pictures of the drawers out on social media, I got quite a few comments about the Asteroids sign on top of the tool cabinet.  The sign is an old marquee off of an Asteroids game cabinet that I bought via E-Bay.  When I was a bit younger, and not yet married, along with some coworkers, I set out to start build an arcade cabinet.  I built a control panel, but never got beyond that.  I had the marquee lying around, so I built a small case for it, and put a light behind it.  Skip ahead a few years, after moving out of that

house, getting married, going back to school for my masters, and several job changes it had been put in a corner of the garage and gotten forgotten about.  When I hung the hand tool cabinet, I did a fairly extensive clean out of the garage.  A lot of junk gotten thrown away, when I came across that sign.  I found that the light still worked, so I put it on top of the cabinet, and plugged it in with the shop lighting.  It now displays proudly whenever I am out working in the shop. While the sign has nothing to do with hand tools or woodworking, I often think back at what I had when I made that sign.  I was still living on my own, and had a very modest amount of tools, mainly for home renovation.  I didn't have anywhere the woodworking tool capacity that I have today, but yet I was able to build a simple piece that has held up well over the years.
What a journey its been, and will continue to be!