For someone who is starting it is very tempting to start buying nothing but power tools, with little regard to hand tools.  A trap that a lot of new woodworkers fall into, including myself, is thinking that these will be enough to make a finished project.   Some of the popular wood working shows give the illusion that hand tools are a small part of the project.  What you don't see is the many hours that is spent with hand tools perfecting joints, edges, routes, and so on.  Also hand tools do not have the size limitations that most power tools have.  (You are not going to get a 13 inch wide board flattened in a 12 inch planer, but a jack plane will!)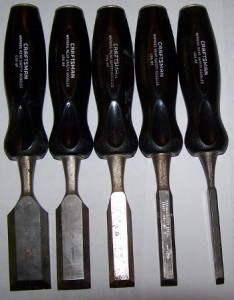 I actually still have a very small hand tool collection.  One of the most basic hand tools every woodworker should have is a set of chisels.  Just like any other tool,  the rule of you get what you pay for applies to chisels too.  When I bought my first home, I bought a 5 pack of Craftsman chisels, which included 1/4″, 1/2″, 3/4″, 1″, and 1 1/4″  wide chisels.   I don't recall how much I paid for them, but today they go for about $35.  As chisels go, these are definitely not the best you can buy.  However, they have served me well.  The steel in them isn't as hard as some of the higher end chisels, which means they won't keep their edge as long.  I don't have the best sharpening capabilities, so I typically sharpen them on the bench grinder.  These have also been used for a lot more than just woodworking.   In fact they have been used and abused on many occasions when working on various projects around the house, including two bathroom remodels.  Frankly, these chisels are perfect for that.
Now, I have recently decided that it was time to get a set of chisels that are dedicated to woodworking, leaving my craftsman chisels for the 'dirty work.'  You wont see these chisels breaking out drywall or floor tile!  Last month, I spent at least a good hour in the hand chisel aisle at Woodcraft looking at the three brands of chisels they had available.  The first brand is the Irwin Marples.  I quickly put these aside, as these are about the same quality as the craftsman chisels.  The other two options were the Crowns and the Pfeils (they are labeled as Swiss Made in the store).  I will admit, based on recommendations I had received, I was already leaning towards the Pfeils.  Both brands of chisels are good chisels.  They both have a harder steel, which means that they will hold their edge longer, and sharpen up better.  At first look in the store, the Crowns look very elegant, with the handles having a nice finish.  The handles on the Pfeils are wood, but the finish is basic.  In fact you can still see the marks from the lathe  tail stock in the back of the chisel.  However, the handle isn't the only part of the chisel, as we still have the steel to consider.  The steel on the Pfeils, well, they had a better feel to them, as they felt like they were more refined.  As I was looking through the chisels, I noticed that a couple of the Crowns bevels were not square, which I found to be unacceptable.  The one drawback on the Pfeils is that they are metric, when the rest of my tools are standard.  Since they are sized to match the standard sizes (though not exact) I decided that it was not a deal breaker.    In the end, I decided on the Pfeils, as these felt the best overall in my hands.

Now, while these chisels are not the most expensive chisels available, they still are not cheap.  Each chisel by itself cost as much or more than 5 pack of Craftsman chisels!  It would have been a budget buster to by them all at once (I am saving up for a band saw!).  Therefore I have been buying them 1 at a time.  The drawbacks are that I have to wait longer to get a complete set (not a big deal, my shop is not heated, and it is COLD outside) and that it will cost me a little more in the long run.  However, this gives me the opportunity to hand select each chisel that goes into my collection.  Also, I can get the sizes I know I will use.  (I don't think I have ever used the 1 1/4″ chisel in for a woodworking project)  I currently have 3 Pfeils now (6mm, 12mm, 19mm or roughly 1/4″, 1/2″, 3/4″ respectively).  I have used one to finish off a project I was working.  The first few cuts I made with it, I realized I made the correct choice.  They truly are finely made chisels that will last at least a lifetime.
*Note, I did not spend much time looking at chisels available online.  I felt being able to hold them in my hand to make sure they would feel right was too important to risk  buying something unknown.