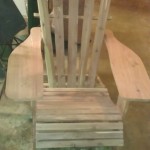 I built this chair following along with The Woodwhisperer Guild build of a Green  & Green style adirondack char.  While it is a traditional design, many of the tips given by Marc still applied while building this one, such as how to position where the screws for the back slats. If i hadn't caught that video, I guarantee you I would have had a screw or two blow through.
The only issue I ran into was I should have cut my boards down sooner after planing. As stresses released, and the dramatic change in humidity I ended up having a couple boards that badly split. The adjustment I made as a result, otherwise, i wasn't going to have enough wood is the number of back slats. The plans called for 7, I made 5. It was either that, or not have enough for the seat slats.
However, as you can see in the pictures, the chair is very comfortable to sit in! It was a fun project to complete!