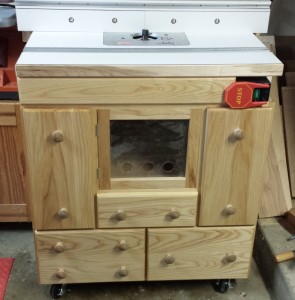 Wow!  This turned out to be the biggest and most complex project I have completed yet in my wood shop.  And I would do it again in a heart beat!  I looked back on my first post for the router table, where I had defined the goals I wanted to achieve for the new table.  I am happy to say I have achieved them all!  The router table truly is a joy to use!
A couple quick things I wanted to highlight that I didn't cover in previous posts.  The first is the drawer pulls.  

I ended up turning all the pulls for the drawers.  Each drawer has two pulls on it, and there are 6 drawers.  If you ever want to good practice and replicating parts on a lathe, turn 12 pulls!  There was some variation between each one, but over all they were each a good match with the rest.  The other item I wanted to mention is the bit storage.  For now I kept it simple just by taking a length of plywood, drill a bunch of 1/2″ and 1/4″ holes, and screwed it to one of the vertical drawers.  With the setup I came up with for bit storage I will be able to change and rearrange it as my bit collection continues to evolve.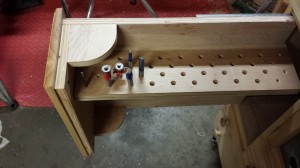 A quick note about the vertical drawers.  I took a small risk and tried something different and unique with them.  As of this post, I have actually been using the table for a couple of months, and I can honestly say I love the configuration.  One drawer is designated for wrenches, collets, height adjuster, and various other components I use frequently.  The other is for bit storage.  Both provide very easy access to getting what I need, while keeping everything very organized.
Thank you all for following along!  On to the next project!