SketchUp Drawing – Paper Towel Rack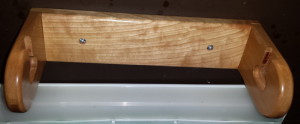 Okay I did have some fun, perhaps too much fun with this one, but both our cat and dog make a guest appearance in this video. 🙂 I will state for the record, despite the light cast on the Pudge, our cat, she is a very good cat.
This project is good way to help freshen up the look of any kitchen. If I had to change one thing on the design, I would have put the rabbets on the sides rather than the back. It would have eliminated the clamping issues I had in the video, as well as made a cleaner looking joint. I had actually debated whether I wanted to redo the entire video to make the design change. After thinking it through, I felt there is still a lot of good information in the footage I had, and attempting to recreate that footage, some of that information may have been lost. However, this will be something I keep in mind as I design future projects for video.
The wood I used in the paper towel rack is cherry, and the finish is shellac that was buffed with a carnauba wax finish. It has hung over the sink for about a month now, and everyone in the family loves having it now.