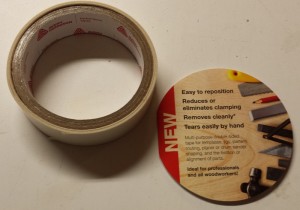 At Woodworking in America's 2013 show, a representative from Avery Dennison was handing out free samples of a new product they are introducing, specifically for the needs of woodworkers.   I have had several projects where I have had to double side tape two like parts together, or a template to roughed out part to flush trim on the router table.  In the past I have used carpet tape.  While carpet tape works, it can be very difficult to separate and often have to clean up the work pieces with a good sanding.  Also, once you separate the carpet tape it may not be reusable as it went with the work piece or just doesn't hold well afterwards.  Also, carpet tape requires scissors to cut each piece off as it does not rip easily.  Overall, carpet tape really is not an easy to use product for woodworking.  Avery Dennison's new product states it will solve all these issues.
So my current project, requested by my wife, has a lot of the same parts, each with a bunch of curves that need to reproduced many times over.  This was the perfect opportunity to put this tape to a test.  First off, the tape rips very easily, so there is no need for scissors, which makes getting the pieces needed go very quickly.  Once getting the work pieces together, about 6″x13″ there tape held solid laterally.  I did several pieces on the router table with the flush trim bit, and every one of them came out perfectly.  While the tape is designed for lateral strength, it is still easy to pull the work pieces apart.  The tape is designed to stay on the first surface when you pull it apart so that you can reuse it on the a template fairly easily.  For the most part I found this to be true, but did have one case where the tape stayed on the other piece.  Once done, the tape pulled off the template very easily, and neither the template or work piece had any residue left.
I will mention, this tape is meant for lateral strength only.  It is not meant for and should not be used to hold two pieces together for use on the lathe.
Looking at the availability on Woodcraft's website they sell it in two different sizes, 1″x50′ and 2″x50′.  The sample pack was a few feet of the 1″ wide tape.  The only real drawback is that the tape is more expensive than carpet tape ($19.99 and $29.99 respectively).  However, I do believe the benefits it provides do justify the cost.  I know I will be buying another role soon.