Hey All, I know its been a long time since I have put an update to the blog.  The good news is things have been happening, I just haven't been very proactive at updating the blog.  I do have part 2 of the Technology in the Shop article nearly complete, just needs some final touches.  If you would like to see more articles like that from me, please leave feedback on what you would like to see.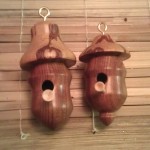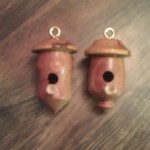 Despite the lack of updates, I have been busy in the shop, largely spending time at the lathe turning Christmas ornaments for family and friends.  This year I tried turning miniature acorn bird houses.  These were a lot of fun to turn!  I am also participating in another challenge from the chatroom on The Woodwhisperer.com website.  This time it is a box.  I will update the blog once it has been completed.  The hand tool cabinet hasn't changed much since its last post, that may have to wait till Spring before I work on it again.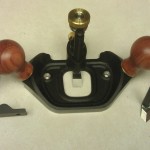 Finally, a couple tool gloats.  First back in November, I went to the Woodworking in America show near Cincinnati.  While I took advantage of a number of good deals, my main purchase was a Veritas Router Plane.  I must say, it is a very well made hand plane, and I will likely be buying the smaller blades for it as well.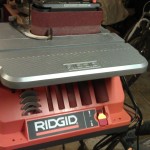 The second gloat, is for Christmas my family got me the Ridgid Oscillating Sander.  This thing is great is at doubles both a spindle and belt sander, and really excels at smoothing cuts from the bandsaw, both inside and outside curves.
I will try to do a bit better with getting blog posts up.  One thing that helps motivate me to do more blog posts is feedback!  Let me know what you think!